You are here: Financial Calculators
Financial Calculators
Financial tools and calculators evaluate different scenarios and demonstrate with charts and numbers the impacts of several financial decisions. The goal is to visualize with concrete numbers and great objectivity your present and future situation.
Credit

You want to improve your credit score so you can have access to credit, lower your interest rate, or get a bigger loan?
Loans
Commercial Debt Ratio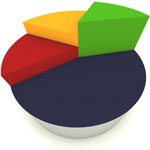 Increasing debt often means increasing the risk, but it can also increase the chance of success if the money is well managed.